(4 / 5)
In the few pages that Talia and Vina's story develops, Ms. Vistky creates an unconventional and amazing fantasy world that will have you trying to find magic potions and wanting to join.
Talia is sold to Vina by her parents and she struggles to come to terms with her new life. She questions the motives to being sold and she concludes that had she been a boy, she would have been loved and cherished. Far away in the heavenly palace, Vina was given a necklace that calls to Talia and that's how she found her and bought her.
With a simple, yet poignant plot this magical world comes to life. Ms. Vitsky writes the voices of her lead characters precisely and deeply, so they fit perfectly with the time and place created for them.
Talia struggles not only with not being loved enough by her family but also with the emotional consequences of having her mother and father leave her.
 "She will leave me, emotionally, if not physically, and I'll no longer have her to hate. What am I on my own, if not only the girl who should have been a boy?"
But even she doesn't see exactly what Vina thinks she is showing her, Talia sees through her, without even realizing it.
"She thinks she means her palace, but I know she means her heart"
The only missing piece is the source of the talisman that guides Vina to Talia, which is given to her by a story teller named Nicodemus. But given the length of the story and the amount of emotion that we get from the pages, it's a really minor detail.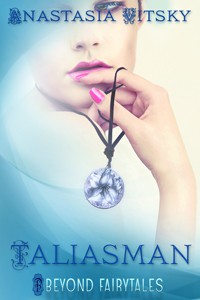 Taliasman by Anastasia Vitsky   Published October 21st 2014 by Decadent Publishing Company, LLC
ISBN: 9781613337387 Goodreads • WorldCat • LibraryThing • Google Books • BookFinder • Shelfari