(3 / 5)
This moody Western M/M romance with a clear disclaimer. I'll start there: if dubious consent is a trigger, don't even think about this one. Warning aside, here we have a great display of Western setting and an interesting plotline but the connections and passion between the characters are somewhat light.
Elijah Carter is the adoptive son of a respected doctor with a few secrets. He's seen as a simpleton by the townsfolk because he is hard-of-hearing. On an errand for his boss, he runs into Harlan Crane, who figures out who he is immediately and doesn't treat him like everyone else. Grady Mullins desires Elijah too, but unlike Crane, he doesn't push Elijah. When Elijah's life takes a sad and violent turn, he needs to find what he really needs and who can really give it to him.
The display of the town and time seem to be authentic, making it a nice historical piece that's a little moody. Ms. Henry does a great job in capturing the restlessness and endless chase of the Western genre, and consequentially immerses her characters in a believable feeling. The businesses and power-plays are well depicted and it creates a generally great atmospheric sensation that ends up to be the perfect setting for the plot flow. Also, the ending seems to fit perfectly.
Elijah's actions and reactions to Crane border on full-on rape, however it's written in a way that compliments the plot and not as a cheap plot twist.
The problem here is with the characters and their relationships. While the plot conflicts and flow is seamless, I couldn't empathize with Elijah. The main character lacks something—I couldn't put my finger on what—that would make me engage in his circumstances and feel compassion or even a connection. His relationship with Crane is shady at best and since their interaction is only depicted from Elijah's POV and he doesn't really know him, we don't get a picture of him complete enough to be able to understand him or engage in Elijah's quest of domination or violence as the reason to seek him. Grady is a whole new issue; he is supposed to be the other side of Elijah's needs and he seems to be able to give Elijah both dominance and comfort, and he seems to make him understand that dominance and good-pain don't need to go hand in hand with violence and disrespect. Instead, we get a flat and unknown character that fulfills Elijah without us really knowing him; I believe that's because of the timing of his introduction to Elijah's awareness. In the end, their relationship seems to not have enough time to form a believable connection and ends up lacking passion.
So within the distinct setting and the enjoyable plot, you'll get a lacking romance and some erotically charged scenes that are not among best. However, it's well written and worth the shot, albeit the initial warning needs to be taken into consideration.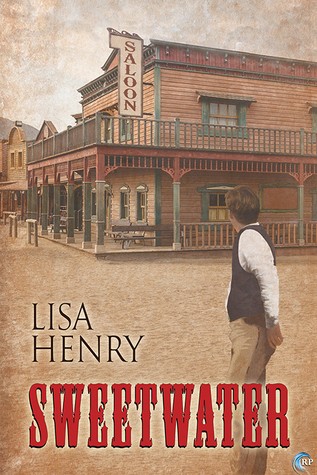 Sweetwater by Lisa Henry   Published Sep 29 2014 by Riptide Publishing
ISBN: 9781626491502 Goodreads • WorldCat • LibraryThing • Google Books • BookFinder • Shelfari