(4.5 / 5)
Grieve, mystery, family, friendship, love, sci-fi… When Ryan Came Back has it all. As I've already acknowledged, Mr. McCormack's incursion into the Young Adult genre is way over successful.
In this YA M/M romance, Steven Chase is a regular teenager in every possible way; he is terrified of coming out, of applying to college, of finding a job, essentially, he is terrified of growing up. He is just like everyone else, until he is not. Suddenly he finds himself being able to talk to Ryan Walters, his lifelong friend and secret crush who committed suicide a few days earlier; except Ryan assures him he didn't kill himself and asks Steven to investigate and find out the truth. Steven sets out to find out what really happened, but as the mystery unfolds, he realizes suicide is more likely than Ryan's theory. Despite the revelations of Ryan's closeted life, Steven must face the fact that Ryan doesn't love him.
Mr. McCormack develops, once again, characters that are real and honest. Steven's reaction to Ryan's appearance is not one we find everywhere, he is terrified and also curious; but mostly scared out of his mind. What I want to say with this, is that the feelings the main character express are genuine and believable in a way that makes him real.
"Hey, I'm totally seeing that dead guy, and he wants me to solve a mystery he was working on before he died! By the way, I'm gay, and I'm in love with him, and I always have been."
The supporting characters are once again fantastic. Steven's mom is so selfish and self-centered… that requires a level of denial that is expertly portrayed in that character. Steven's friends and classmates, Ryan's girlfriend, his mother, everyone that surrounds Steven just jump out of the pages.
Something somewhat peculiar about Mr. McCormack's writing in this piece are the rants. There are a lot of longish speeches that fit amazingly with the pace of the story, and somehow, paired with the feel of the high-school student grieving and turning into an investigator and coping turns this into yet another must.
The best reason to read this one, though, is the feel that the teenagers are real, and not some grown-up tamed down version of them.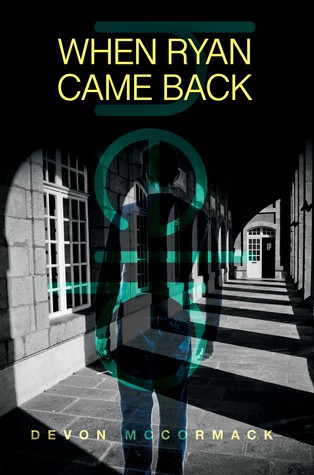 When Ryan Came Back by Devon McCormack   Published October 16th 2014 by Harmony Ink Press
ISBN: 9781632164568 Goodreads • WorldCat • LibraryThing • Google Books • BookFinder • Shelfari