(4 / 5)
Kevin Harding is the newest vampire on Master's family; he was just a boring teenager when he was turned and now he has to hunt. He doesn't want to, but he knows he will do as his master wants. The longer he is a vampire, the stronger the connection to Master and the more compliant he becomes. So he goes hunting with Dax and he gets kidnapped by vampire hunters. Rather than endure torture, he agrees to help the hunters find and kill his Master; except the longer he is away from his master, the harder he pines for him.
The mayor strength here are the characters. Mr. McCormack once again creates a set of amazing characters that come out from the pages and become alive. We understand them, their loyalties and the reasons behind them; friendship, love, lust, romance, we get it all in a fantastic fanged package.
But again, what you want from this one, are the characters. Kevin with his sense of rightness and the pull he feels from his dark side, but also the way he falls in love, and the sensible way he distinguishes that love from the fun sex he has with Dax. Dax, fun-loving and so adorable that you might want to ask the author to expand on him. The hunters and their motivations, the reasons to change them and the things that they can and will do to fulfill their role. Master and Alyssa, Kevin's vampire family, and their twisted views of things. Characters that become so complete that even if you won't agree with them or even condemn the things they do, you will somehow understand them and empathize.
Mr. McCormack's prose reads easily and has the exact needed amount of action, gore and violence, mixed with the components of the young adult genre in a very authentic story.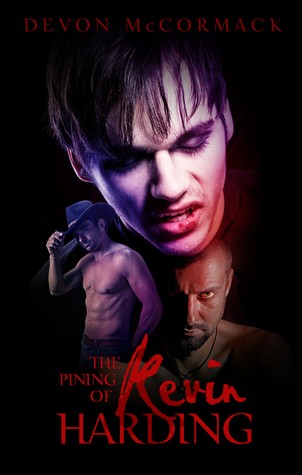 The Pining of Kevin Harding by Devon McCormack   Published Oct 8th 2014 by Wild City Press
ISBN: 9781925180565 Goodreads • WorldCat • LibraryThing • Google Books • BookFinder • Shelfari