(4 / 5)
Compared to the great introductory novella, the first few chapters of this book drag a little and are a little disappointing. For about 5 whole minutes; then it picks up and we get greatness again.
With amazing characters and a storyline that delivers action, romance, and mystery, the first full book in the Night Sky series might blow your mind, in spite of having to push through the first few chapters.
Calvin and Sky are still as awesome as promised in Dangerous destiny and coupled with Milo and Dana, the foursome is lethal. Each unique and with a background story of their own, they compliment each other and leave us wanting more, even if the ending is somewhat closed, there's still a lot to know and anxiousness for the following books in the series is inevitable.
The story goes back and forward in time explaining thoroughly Skylar and Calvin's quest to find Sasha, the little girl babysat by Sky that gets kidnapped just about when Sky starts having weird dreams and sensing weird smells. Things get even more troublesome when Dana, superb motorcycle-riding kick-ass girl, shows up and tells Sky about some kind of abilities–that a hormone in their blood makes them stronger, faster, smarter. A hormone that the makers of a new drug called Destiny will murder to get their hands on. Dana comes coupled with her partner in crime, Milo. They want Sky to train to manage and use her abilities.
My advice is to go, buy Night Sky, read it cover to cover, and then come and tell me how amazing it is and how angry you are that you don't have the second book in the series in your bookcase waiting to be read.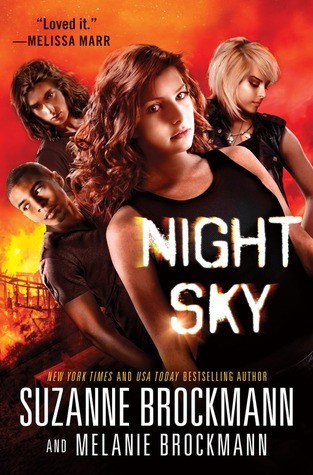 Night Sky by Suzanne Brockmann, Melanie Brockmann   Published Oct 7th 2014 by Sourcebooks Fire
ISBN: 9781492601449 Goodreads • WorldCat • LibraryThing • Google Books • BookFinder • Shelfari