(4 / 5)
With appraisable smoothness, Ms. Vitsky constructs the present and then takes us to the past of a relationship with lasting consequences.
Ten years ago, Trinity broke Graciela's heart, left her Mistress and became a Domme. Fast forward to the present and, as Trinity finds herself in a crisis, she reluctantly calls Graciela for help. Graciela offers temporary shelter, but when Trinity breaks under Graciela's anger and begs forgiveness, Graciela wavers. They struggle with an opportunity to love again if they can regain trust and get a second chance.
Fast paced and back and forth between past and present, Ms. Vitsky creates characters that are strong and resilient with a powerful sense of emotion and in that, she develops a BDSM relationship focused on the healing experience of submission.
Graciela is a great character. She is harsh, but she cares about Trinity and what she needs and it really shows. Trinity's growth is very well portrayed and the struggle she shows as to whom she is, who she is supposed to be, who she supposed she should become and who she really becomes, is amazingly well written.
Their relationship is developed sensually and erotically, but there's not actual smut. What I mean to say is that the sex is approached in a constructive way, its part of the story, the characters and the development, but not a step by step imaginary as to how they actually have sex. This contributes beautifully to the story and helps its growth without becoming straight forward porn. Sex is part of the story, not the other way around. Both mayor point winners in my book.
In the end, this sort of spin-off on Mira's Miracle is a great read, short and lovely, with a good take on BDSM relationships, and relationships that are amazing to follow, and characters that you'll fall in love with immediately.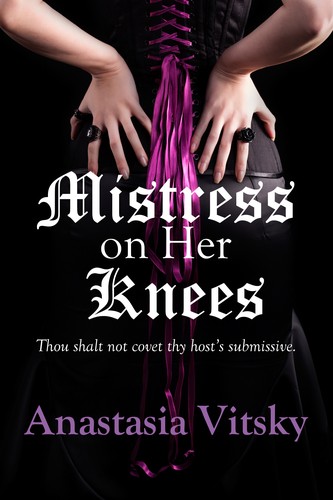 Mistress on Her Knees by Anastasia Vitsky   Published March 1, 2015 by Anastasia Vitsky
ISBN: • WorldCat • LibraryThing • Google Books • BookFinder • Shelfari