(4 / 5)
A good plot that flows smoothly and a writing style that makes for a quick read, this recently published romance will make you want to be done in one sitting. So prepare your reading chair/couch and immerse yourselves in Dr. Marin Johns' quest for answers, and ultimately, love.
Marin is a psychologist, specialized in couples therapy, working in a successful practice in San Francisco, and is months away from becoming a Mrs when she finds out her fiancée is cheating on her. Carrying a broken heart, she stumbles upon a book that uncovers the truth about man. In an attempt to prove her friends that all men are cheating liars, she embarks on a quest to find a boyfriend and catch him cheating. She engages in a relationship with James Young, a seemingly good guy.
The main reason this book is good, is the main character. She is written in an ingenious way that makes her personality very straightforward. She behaves like a scorned woman who lost faith in love and men and she avoids her healing process by convincing herself that her cheating boyfriend is just one of the bunch and that all men are the same.
Tear after tear, tissue after tissue, until I had all the symptoms of a cold—feverish skin, stuffy nose, aches and pains. Only it wasn't a cold I was suffering, but a broken heart.
Her surrounding characters are specific enough that we get to know them without derailing from the main story; each of her friends depict a very specific aspect of a woman's personality without letting us think that that's all there is to each of them. The men are equally well portrayed; the fiancée Chad, the friend's husband David, the coworker Andy, and some other characters are also rich, but not over-consuming. James becomes a lovable character even if we don't know a lot about him.
So in the eyes of Marin, we get pulled into a tangle of amusing turns that might make you lose faith in monogamous relationships but it will also make you appreciate the rarity and greatness of finding a person that you really can trust.
A witty and sweet tale that covers fidelity – and the lack of it -, friendship, and love, Ms. Aksel's debut novel is amusing and clever and a great recommendable read.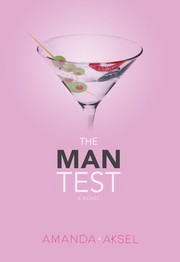 The Man Test by Amanda Aksel Published March 25, 2014 by Elephantine Publishing

ISBN: 9780996028608 Goodreads • Amazon • WorldCat • LibraryThing • Google Books • BookFinder • Shelfari