(1.5 / 5)
This one is going to be a "the good, the bad and the ugly" kind of review, so don't expect me to get a good prose or try to find some good meaningful advice in this review; there's none.
The Plot:
Perfect politician daughter Brooke Ellstein is a respectable teacher involved in a pen-pal program to support the troops; so she begins writing to Shane Develen. They become good friends with underlying sexual tension, but Shane is upfront and tells her he doesn't want a relationship. When Shane comes home on leave, they meet and Brooke gives him some compromising pictures of herself. Shane is injured and brought home and his fellow soldiers post the picture on Facebook. Brooke's reputation falls into a dark pit and Shane shows up on her door to set things right and apologize.
The Good:
There're a few good scenes that are strong and the writing is not too bad. It's a bit cheesy but seems ok, because cheesiness is embraced.
And that's it.
The Bad:
We don't see the development of the romantic relationship. I think this one was a big miss; the get-to-know part of the relationship happens mostly before the book. We get to read two of the letters in the beginning and then we launch into the over the top drama that happens way too fast.
The whole bit about cyber-bullying was annoying and preachy.
The story happens in a short amount of time; a lot happens, but nothing of substance. In some way it piles up so much that it seems hard to follow all the drama and over the top problems happening at once.
Absolutely predictable
The Ugly:
Brooke. Yes, indeed. Her personality is incoherent at most; she's a doormat but is pushy as hell and has no respect for Shane's independence. She's nagging and annoying and a little stalkerish.
The supposedly sexy scenes. The vocabulary used is… awkward comes to mind but that's not the word… anyway, it's bad. Really truly bad.
I found myself wondering (and I've seen I'm not the only one) if the "

Loving You Is Easy

" line isn't too much like Tammara Webber's Easy. This is a big no-no, Ms. Marcus.
Well, you can see why I didn't want to get into this one.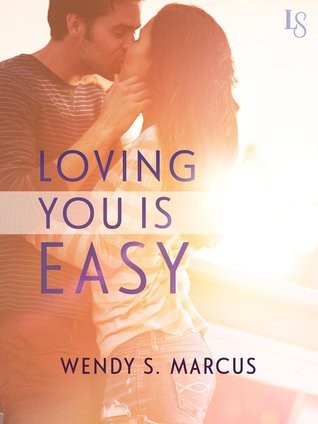 Loving You Is Easy by Wendy S. Marcus   Published Dec 9 2014 by Random House Publishing Group – Loveswept
ISBN: 9780553391237 Goodreads • WorldCat • LibraryThing • Google Books • BookFinder • Shelfari