(4 / 5)
Ms. Evanovich and Mr. Goldberg hit the mark again on this new installment on the Fox and O'Hare series.
Nick Fox and Kate O'Hare get drawn into taking down the chocolate-lover brutal leader of a global drug-smuggling empire. Except no-one knows where he is or what he looks like; but Nick has a few aces up his sleeve. Nick and Kate chase their mark and recruit an off the charts team composed of a machete wielding Somali pirate, a self-absorbed actor, an Oscar winning special-effects artist, and Kate's father Jack. Team assembled, they find themselves against a psychopathic bodyguard and a Portuguese enforcer who is crazier than crazy, and they might catch their biggest win yet, or maybe die trying.
Implausible but amazingly constructed, the plot for this third installment is flawless. We get eased into the target and the plot flows smoothly and full of action and hilariousness.
The writers deliver witty and humorous dialogue that might have you laughing out loud.
"'In other words,' Rodney said 'My life, and yours, could depend on how convincing my special effects are.'
'Yes, that's right,' Kate said. Rodney grinned.
'Cool! How could a true special effects artist possibly resist a challenge like that?'"
The whole book is full of highlight-worth quotes to get your fill of hilarious banter.
"'Where's the trust?' Kate said. 'I thought we'd established trust'
'You trust me?'
'Of course not. You're a career criminal, a con man, and a cheat' she said."
Also, as in the previous books, the characters –not only the main ones who we all know and love—are constructed in an exaggerated and fantastic way that only adds points. Just as we saw the actor portraying a troubled pancake, we see him playing a commercial of a herbal medicine with the best-ever name (in my opinion):
"'His life was spiraling into madness and despair until he discovered Uberboner, the incredible herbal remedy for impotence'"
The only little tiny thing that this story needed, again in my opinion, was a little more of Kate and Nick's relationship. I think I speak for all of us when I say that we want that relationship developed and not only left in the fantastic flirting and bantering.
In the end, The Job is yet another amazingly written action-packed and hilarious installment in the Fox and O'Hare series and is absolutely worth the time.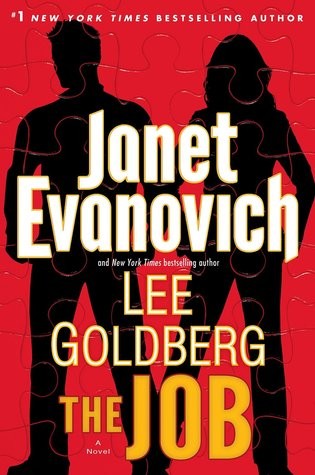 The Job by Janet Evanovich, Lee Goldberg   Published Nov 18 2014 by Random House Publishing Group – Bantam Dell
ISBN: 9780345543127 Goodreads • WorldCat • LibraryThing • Google Books • BookFinder • Shelfari