(3 / 5)
A somewhat intriguing plot pulls you into the strange mind of a traumatized amnesiac; portraying interesting characters and the rivalries that tie them together, Mr. Patterson does a good job. However, the background and the development of the characters, deter from the main plotline resulting in a sometimes too long book.
Mr. Patterson introduces us to Peter Carey, a man surrounded by blank memories of a tragedy and the recurring nightmares that are barely accurate, who lost his father at an early age because of a horrific accident. As the past intertwines with the present Peter finds himself in the middle of a strange conspiracy that threatens his father's legacy and his own life; Peter will have to remember and remember fast, overcome his amnesia if he cares to survive.
The story is told in three very long parts. The first one telling Peter's childhood, portraying the relationship between his parents and how his grandfather set up his father and uncle to compete for the family's publishing company; with very poetic writing, Mr. Patterson shows off his talent as a writer.
On the second part, we delve more into the fading of Peter's parents' relationship and the surrounding characters that threaten the Carey's publishing company; we get to know about Peter's parents' death and who gets the company when Peter's grandfather dies, setting the tone for the big unveiling in the third part.
The unraveling that goes into the third and final part of the book has the most fast pace of the whole book. We begin to understand about Peter's nightmares and the reason behind his amnesia; we become aware of the lasting consequences of the tragedy that killed his parents and the conspiracy that threatens to end it all.
However long and sometimes slow, Escape the Night has some interesting plotline and magnetic writing. Mr. Patterson has, no doubt, an amazing talent in putting pen to paper and deliver expert lines.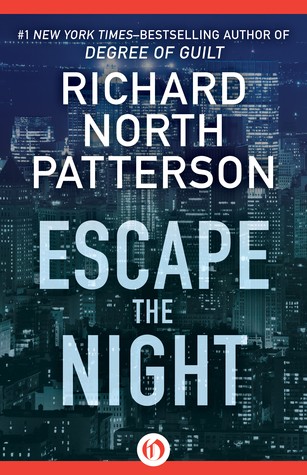 Escape the Night by Richard North Patterson   Published November 25th 2014 by Open Road Media Mystery & Thriller
ISBN: 1497679141 • WorldCat • LibraryThing • Google Books • BookFinder • Shelfari