Rating: 
(3.5 / 5)
Twenty years after loosing the ability to see colors, former artist Anthony sees a glimpse of yellow leading him to Teague, a musician who is in town in between tours. Desperate to recover his former life, he finds Teague and explains his problem and the way Teague could help him. While developing their romance, they suspect recovering colors is more important to Anthony than his relationship with Teague.
Ms. Strange got it right. This sweet short story, captures the anguish of an artist that can't paint anymore and the playfulness of a musician who puts his hart on the line.

The characters are shown in a way that makes them profound and complete, even in the few pages the story is told. The way Anthony can't see colors and how he sees Teague is delightful. Anthony is awfully selfish most of the time, but seems to be exactly how we imagine the inner thoughts of an anguished artist. Teague, from Anthony's point of view, is painted in a colorful way; we perceive him as innocent and cute, playful and bubbly.
In the end, Ms. Strange delivers a short story complete with romance and hope that is worth the read.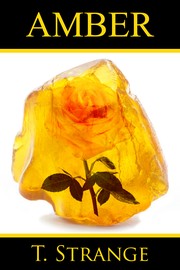 Amber by T. Strange Published 2014 by Torquere Press
ISBN: ISBN:1610406346 • WorldCat • LibraryThing • Google Books • BookFinder