(3.5 / 5)
The premise here is simple: is it possible to fix what you broke thoroughly in a set amount of time if it was perfect to begin with?
Cal wakes up buck naked with a naked woman while in Vegas; the mayor problem is, the naked woman is not his beloved wife. Cal confesses to his wife Shelly, and in doing so he breaks her; breaks her trust and causes the imminent implosion of their marriage: Shelly wants a divorce, doesn't want to talk about it, she just wants out. Cal buys himself some time and proposes an eight week deal: eight dates, if by the end of the proposed time Shelly still wants a divorce he will give up and give in. So Cal sets out to date his wife and show what their marriage is made of and therefore, worth fighting for.
What we get is eight weeks of a couple realizing they are not as perfect as they thought, but that their love might be worth rediscovering and reinventing their bond. The characters featured are simple yet their bond is extremely sweet, what makes this book worth your time.
The supporting characters are well portrayed and set the field nicely for the following books on the series. It is a good tight group of friends that pulls for the same team all the time. The only issue I had with them was the fact that they all let go of Cal's mistake so easily; even if they know him and know that he wouldn't hurt Shelly on purpose and the girls struggle with it a little in the beginning Cal gets off the hook too easy. But. It's good for the flow of the story and the length is exact as to not sicken in sweetness or drama.
Ms. Lopez writes a fine prose that makes for a light read that starts with the end of the drama and goes through the healing and the fight for reconstruction, delivering a story that is sweet but not sickening and portraits characters that are developed enough to root for them but not to fully commit.
8 Weeks can be found as part of the Tempt You set, published by Elephantine Publishing on November 12th 2014.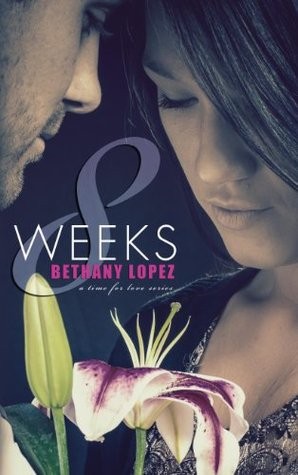 8 Weeks by Bethany Lopez   Published March 2014 by Bethany Lopez
ISBN: 1493534165 Goodreads • WorldCat • LibraryThing • Google Books • BookFinder • Shelfari